The Three Brothers From Birkenau
by Kenneth Florey
Johannes Flory ("John I" in Walter Q. Bunderman's book Flory, Flora, Fleury, Family History, Church Center Press, 1948, about the Flory families in America) was one of three Florys to arrive upon the ship the John and Elizabeth, commanded by Captain Peter Ham, in the port of Philadelphia on Nov. 7, 1754. Tradition indicates that the other two Florys on board that day, Adolph and John George, were Johannes' brothers. It is not known where the three boarded the ship originally. The John and Elizabeth was registered in Portsmouth, England, but it made Palatinate, Hanau, Wirtemberg, and Rotterdam its main ports of call on the 1754 journey as it sailed down the Rhine to pick up German emigrants. While other English ships made similar voyages frequently along this same route, the John and Elizabeth apparently made but this one. It is also not clear as to whether or not any women accompanied the three brothers. The ship lists, following traditions of the time, did not record female passengers. They do enumerate "330 Whole Freights. 11 Roman Catholicks. 120 Protestants," with the term "whole freights" likely alluding to women and underage children (i.e., those under fourteen) who were not otherwise listed. Thus, it is possible, although not necessarily likely, that the brothers may have been accompanied by their mother, a sister or two, or even a wife, who may or may not have survived the trip.

Philadelphia Harbor from the New Jersey shore as the three brothers would have seen it on their arrival in 1754.
When the ship docked in Philadelphia, an announcement, as was customary, was sent out to the local paper, in this case a weekly called the Pennsylvania Gazette. On page 2 for the week of November 14 of 1754 a listing for "Ship John and Elizabeth, Peter Ham from Amsterdam--Customs House, Philadelphia, Inward Notice" appeared. Also in the same issue, the owners of the ship advertised
For any part of the West Indies The Ship John and Elizabeth, Peter Ham, Master, will sail with all expedition. For freight or passage, apply to Daniel Benezet, or said master on board or at the Coffee house.
This advertisement was repeated again in the issues of Nov. 21 and 28. The John and Elizabeth was in port for several months, for it was not until February 25 of 1755 that the ship appeared on the "Outwards" list of the Custom House and not until March 4 that it had been cleared for sailing. The immediate destination of the vessel was now listed as "Virginia," not the West Indies, although it may have gone there after its initial port of call.
The ad from the Pennsylvania Gazette announcing that having unloaded its passengers in 1754, "The John and Elizabeth" was now set to sail for the West Indies.
The fate of the John and Elizabeth was, apparently, tragic. J.M. Bumstead records in 18th Century PEI that in
"1775 THE JOHN AND ELIZABETH, from Moray Firth, unloaded 52 settlers for lot 57 on the Orwell river PEI, the proprietors of which were Samuel Smith (A London merchant and Crown agent for the colony) and James Smith (a royal naval officer). The proprietors refused to continue responsibility for provisioning the settlers when their supply ship was carried off by American privateers in Nov 1775. The newcomers were reduced to such misery. This ship was shipwrecked off Point Prim, PEI."
Until relatively recently, no one knew what town in Germany the brothers called home. Several earlier researchers had cited family traditions indicating that they had come from the Palatine region and were descended from Huguenots. In the 18th and 19th centuries, however, the designation of "Palatine" was generally applied to virtually any German immigrant to America who came from an area near the Rhine Valley, so family tradition is not of much help in pinpointing the home area of the Teutonic Florys. In any event, early Flory family research on Johannes, George, and Adolph was more concerned about tracing the identity of their descendants in America as opposed to finding their ancestors in Germany.
An important clue as to the brothers' origins in Germany did come about, however, in the late 1970's when a James Florey was doing research on his ancestor, Adolph Flory, Johannes' brother. Using the resources of the Church of the Latter Day Saints, Florey noticed from early German church records that a Nicholas Adolph Flohri was born in Birkenau, Hessen-Darmstadt, Germany in 1734. That this Nicholas Adolph and the 1754 Adolph are one in the same is suggested by the following
(1) they were about the same age. Adolph, who died in 1819, could not have been much older than twenty in 1754 when the John and Elizabeth arrived in America, otherwise his age at death would have been close to 100. Nicholas Adolph, as the Birkenau baptismal records indicate, was exactly twenty when the ship came to port;
(2) the name "Adolph" was unusual in Germany at this time as was "Flohri." The possibility that there could have been two contemporary Germans with this name seems especially remote. Nicholas Adolph, incidentally, was named after his godfather, Nicholas Adolph Hardwich, the town miller. "Adolph" was not a traditional name within the Flohri family;
(3) there is no record in the Birkenau Lutheran Kirchenbuch of Nicholas Adolph subsequent to that of his birth--no marriage record, no death record, no record of his having witnessed a baptism--indicating that at some point early in his life, Nicholas Adolph left the town, perhaps to come to America;
(4) finally, the spelling of "Flohri," which Adolph used to sign the ship's registry in 1754, is the spelling used for the family in the Lutheran Kirchenbuch at Birkenau. The International Genealogical Index, maintained by the Church of the Latter Day Saints, shows no example of this particular spelling by any other family in Germany in the 18th century.
Although James Florey's studies concentrated on his own ancestor, Adolph, and not on either Johannes or John George, later researchers including Steve Flora, Tim Flora, and myself, along with Sabine Schleichert, a German genealogist we had contracted with, were interested in finding out more about the entire Flohri family from Birkenau, including who they were, where they ultimately came from, and whether this Nicholas Adolph of Germany had any brothers named Johannes and Johann George.
The Nicholas Adolph whom James Florey had uncovered in Birkenau did have siblings named Johannes and Johann George; and, although there are some problems linking Johann George with his immigrant namesake, it is likely that these Flohris were the very ones who came across the ocean to America in 1754. All three ultimately descend from a Hans Flohri, who, according to a tradition among his current descendants in the town, arrived with his wife, Apollonia, in Birkenau sometime in the 1640's when the town, devastated by both disease and the aftermath of the Thirty Years War, needed a carpenter, and the mayor and the minister sent out word to obtain one. According to this same tradition, Hans came to Birkenau from somewhere in Switzerland, possibly with a brother whose name is not recorded. Town records, to a degree, substantiate that tradition. Census documents indicate that in 1618 the population of Birkenau numbered 300. In 1642, the number dropped precipitously to 50, indicating that disaster had hit the town in the form of disease and war. By 1664, with the inclusion of new residents, many of whom were Swiss, the population had climbed to 120. No Flori appears on the town list of 1642, but Hans Flori is recorded as living there in 1655 indicating that he and his family arrived in Birkenau sometime between the two dates.
Hans seems to have adjusted somewhat quickly to life in his new home. In a list of Birkenau residents in 1655, he is credited with property worth 200 gulden (or florin) just about average for inhabitants of the town, but impressive enough given the fact of his recent immigration and settlement there. The 1200 Year Book of Birkenau labels him as Kantzlerin Hofbauer ( "farmer on property owned by the Kantzlerin, the Kantzler's wife") on May 23, 1655 at city hall when a Zentgericht was held because of the unstable conditions in the town.
It is not known how many children Hans and Apollonia had. There is only one child recorded for him in Birkenau-- Peter Flohri, who was born in 1637 or 1646 (the records are conflicting) and who was a carriage maker as were many of his descendants. Peter married Anna Stutz in Birkenau on June 20, 1671, and the pair had their first child, Johann (Nicholas Adolph's father), in 1679 and at least five others subsequently including an Adam and a Hans Georg. Hans and Apollonia had at least one other child in addition to Peter, a Hans George, who was about the same age as Peter and who lived in Hohensachsen, a scant 3-4 miles from Birkenau. In the same town there was a Marcus Flori, who may have been Hans Georg's brother, but no connection between the two has been explicitly established. In any event, Hans George and Marcus disappeared from Hohensachsen and went to parts unknown. No other male Floris appear in Hohensachsen until the mid-eighteenth century when church records indicate the presence of the brothers Johannes and Peter Flohr. Because of the spelling of their surname, it is not clear whether these brothers were of the same family as the Birkenau and Hohensachsen Floris. Peter Flohr later applied for an exit permit to Hungary and disappeared from the area.
The 1200 Year Book indicates the presence in Birkenau itself of another early Flori named Lorenz, who, in 1561, got into difficulty with the town authorities over the theft of meat from a neighbor's wife. However, Lorenz drops out of site from all records, and neither he nor any possible descendants from him are mentioned in the Birkenau Kirchenbuch, which begins recording events in the town in 1637. While there is a possible biological relationship between Lorenz and Hans because of the similarity of their surnames, any connection between the two at this point is completely hypothetical. Moreover, Lorenz's name appears in family archives of the Baroness of Wambolt as something like "Bori," so the chances of a family connection are minimal. The editors of the 1200 Year Book probably misread the name "Bori" in Germanic script as "Flori," a name that they were more familiar with.
The description in the town record of the political situation in Birkenau 1655 that occasioned the Zentgericht at which Hans Flohri attended is somewhat confusing. Half of Birkenau was owned from 1649 to 1655 by the noble family of Bertram von Hersbach, and the other half until 1653 by the noble family of Landschad von Steinach, when that portion was sold to the family von Bohn. Both Landschad and Bertram seem to have used their power to tear down the few remaining wooden frame houses in the town and then sell most of the village, in some cases illegally, to interested parties. The new owners were a general of sorts, called a Rabenhaupt, and a Kantzler (probably an administrative chief) from Heidelberg, whose name may have been Zacharius Rochus. Precisely what specific issues were discussed that night or what Hans Flohri's role in that discussion was are not known.
It is curious, though, that the 1200 Year Book refers to Hans as a farmer rather than as a carpenter. Other craftsmen who attended the 1655 meeting are identified by their professions, and they include the town tailor, glass maker, smith, and miller. Perhaps the actions of the nobles in removing the older wooden houses prevented newer ones from being built, and Hans had little opportunity to practice his craft. Whatever the case, even Hans' descendants in the city are listed in church records not as carpenters but as "carriage makers," though they, like Hans, probably possessed general skills at woodworking.
If Hans Flohri of Birkenau is, indeed, the great grandfather of the 1754 Florys who came to America, as he undoubtedly was, the traditional "three brothers" legend needs some modification, for the other two Florys on the ship could, at best, have been half and not full brothers to Nicholas Adolph. Adolph's father and Hans Flohri's grandson, Johann, was married twice, the first time on November 17, 1711 to Anna Barbara Jacob, and the second on November 20, 1730 to Eva Barbara Vollrath, Nicholas Adolph's mother. Nicholas Adolph's two siblings that we are concerned about, Johann George and Johannes, were born to his father's first wife, Anna Barbara, on November 28, 1718 and April 21, 1724, respectively. Nicholas Adolph was born to Eva on October 15, 1734. The Lutheran Church where all three were baptized was situated on a hill overlooking a small river, and it was destroyed by flood in the nineteenth century. A new church has been built on the original spot.

The death record in 1685 in the Birkenau Church records of Hans Flori, the founder of the E-Line.
As was indicated previously, Nicholas Adolph's half-brother, Johannes, is undoubtedly the same person as that Johannes Flory who appears on the 1754 ship list. While the given name "Johannes" was extremely common in Germany at this time, the surname "Flohri" or "Flory" was not, and it is unlikely that Nicholas Adolph would have found himself on board a vessel with a Flory of unknown origin. Moreover, that Nicholas Adolph would later take up residence in 1774 in Northampton Co., Pa. about twenty miles from this Johannes seems due to circumstances much more compelling than those of coincidence. Also, the 1754 Johannes was the founder of a family of farmer-carpenters, and the 1724 Johannes came from a family of farmer-carpenters. Finally, the Birkenau church records indicate that the 1724 Johannes was both present in the city in 1751 and unmarried, when he served as a witness to the baptism of his nephew, Johannes, son of his brother, Johann Georg. There are no further references to Johannes in these records which means that he neither married nor died in the parish. Johannes could conceivably have emigrated from Birkenau at any time, but since there are no marriage records pertaining to him in the Kirchenbuch and since he was 27 in 1751, he probably left within the next few years, just at the time the John and Elizabeth departed. Unless he intended on remaining a bachelor, it is unlikely that he would have put off marriage much longer in the town. Every other Flohri male in Birkenau who had been married before him had done so by the time he was 32.

The Birkenau Church baptismal record in 1724 of Johannes Flori
Assuming that the Birkenau Johannes is the 1754 Johannes, the founder of the Northampton County lines of Florys, perhaps something should be said about his mother, Anna Barbara Jacob, who was born on April 19, 1693. Her father was Peter Jacob, and her grandfather was Veith Jacob, from the town of Mumbach. Peter married Catharina Schmidt, Anna's mother, on April 11, 1676 in Birkenau. She was from Unterliebersbach, a tiny village so close to Birkenau that their residents attended church there. Her father, Georg Schmidt, was deceased at the time of her wedding. Anna had two brothers, Peter (b. May 15, 1681) and Johann Martin (b. Sept. 16, 1683) as well as four sisters, Christina (b. Nov. 18, 1677), Anna Margaretha (b. July 6, 1679), Maria Magdalina (b. Sept. 6, 1685), and Anna (b. Dec. 19, 1690).
The identification of the 1718 Johann Georg Flohri from Birkenau, brother to Johannes and half-brother to Nicholas Adolph, with the 1754 George of the John and Elizabeth, is far less definitive than it is for that of his brothers with their 1754 counterparts, and there is a possibility, despite the similarity of names, that he may not have been the third passenger. The Johann Georg from Birkenau married Catharina Margaretha Schab in that town in 1749 and had a son, Johann, born two years later. If he was the passenger on the John and Elizabeth, his stay in America would have had to have been temporary, for Johann Georg Flohri died in Germany, not America. The Birkenau Lutheran church records list his death in that German city in 1777. His wife also died in Birkenau during the year following (1778), and his son, Johann, too, in 1830, after having fathered four children. Moreover, the town's baptismal records indicate that in 1758, a Johann Georg Flohri, carriage maker, was a witness at a baptism. Johann George did have a son who was also named Johann George, but the 1758 entry probably refers to the father. Thus, if this 1718 George did sail on the John and Elizabeth, his stay in America could have lasted 3 ½ years at most, and it probably was shorter than that.
The brief period during which the Birkenau George could possibly have been in America does raise serious questions as to whether or not he is, indeed, the 1754 George. On the other hand, with the possible exception of an elderly uncle who seems to have disappeared from the town early in the eighteenth century, there really is no one else named Johann Georg Flohri in Birkenau at this time who could have been a candidate for the "Hans Georg" who appears on the John and Elizabeth passenger list. Moreover, the identifications of both Nicholas Adolph and his half-brother Johannes with two of the Flory passengers on board the 1754 ship seem so strong that they almost compel one to accept the Birkenau George as the third emigrant. Furthermore, there are no definitive records in Pennsylvania anywhere of the presence of the 1754 Johann George Flohri, indicating that he disappeared somewhere, possibly having moved back to Germany.
If John George Flohri did wish to return home, would he have had enough money to do so? Based upon contemporary accounts, the answer is "possibly." In his Reise Nach Pennsylvanie (Journey to Pennsylvania) written in 1756, the immigrant Gottlieb Mittelburger described the type of sea voyage from Germany to Philadelphia that the brothers had just undergone. His purpose was to warn potential immigrants of the travails that they would face in the journey to get here, along with the tremendous costs that the trip would entail. He estimated that they would be charged about 40 florins for the voyage to Rotterdam (in part because of the number of stops and the accompanying tolls along the way) and another 60 to proceed on to Philadelphia. If they were cheated or faced unanticipated emergencies, the figure could rise to as high as 200 florins. His estimate may have been high. He had been exhorted by other immigrants to expose to their countrymen back in Germany the dangers of coming here. Still, in the absence of other evidence, we can use his figures for a starting point, regarding them, perhaps, as the worst possible scenario.
Assuming that John George was frugal, it would have cost him a total of approximately 200 florins for a round trip journey. Hans Flori's estate in 1655 was estimated to be worth about that figure. If George had inherited a similar estate from his father upon his death in 1751, he would have had more than enough money for the trip, provided that he left his wife and young son(s) at home while he earned the money to provide for their passage at some future date. Even if he had left them some of his inheritance to live on while he explored his prospects here, he could have supplemented his remaining funds for the passage home by hiring himself out for a year or two. We don't know if he had ever received this much of an inheritance, but he conceivably could have had. The town records of Birkenau indicate that his grandfather, Peter, had sold his father, Johann, a home with attachments on April 11, 1712 for 175 florin. Peter was 75 at the time, and the sale probably reflects his "retirement," for these same town records indicate that he bought another house "by a millstream" one month later for 121 florin. Presumably Peter gave his son a good price, and presumably the house eventually landed in George's hands. Thus money may not necessarily have been a major impediment to George's return to his homeland.
On February 19, 1752, another event occured that might shed some light on George. Peter Flohri, George's uncle, and son of the above Peter, borrowed 150 florin from Wambolt magistrate Leonhard Krauss at 5% interest. Peter gave as surety his house and 1/2 acre of land along "Thorn Way." It is unclear as to why Peter needed so much money. However, his brother Johann, who had died the year before, was a carriage maker like himself. Peter may have wanted to buy the business from his brother's heir(s). Since both were listed in church records as carriage makers, they may have even worked together. It may have even been Johann's intentions that his brother would carry on the business. If so, it would have been Peter's sons, and not George, Johannes, or Adolph who would have inherited the trade eventually. George may have seen the need to leave the town as there were no prospects for him. He had to stay around a year or two, because of the birth of his new born son. However, he may have been thinking about America as early as April 1751, when he selected his brother, Johannes, to be a godfather for his child. The godfather was to be responsible for the child should something happen to the father. If both were to travel together, Johannes would be the most convenient and accessible person for him to take over this duty.
One other piece of information pertaining to the 1718 George has surfaced. According to the current archivist for the town, a Mr. Koerner, this "George Florig" is recorded as having been involved in a land dispute in 1766. He had purchased a house on March 19, 1761 from a Conrad Brauer, who had recently moved to newer and, probably, better accomodations. He bought this house "wiederkaufflich" (with some sort of agreement about giving the house back under certain circumstances). On November 8, 1764, this house was, by government order, sold "vest" (permanently, without the right to give it back) to George. Brauer and Flohri then quarreled about the boundaries of the property and a lawsuit was filed, which was arbitrated by both the town's mayor and members of the court. Since George was 43 at the time of the sale, and since the house was described in documents as being an old one (and, presumably, inexpensive), it is tempting to speculate that George was buying the type of house someone might have done if he had little money left after having sold his original belongings for a fruitless trip to America. Otherwise, why would he be interested in such a cheap house at this stage in his life?
George's house was described in the court document as having little more than what appears to be a garden belonging to it. In a newspaper article appearing on July 25, 1961 in the Weinheimer Nachrichten, a Johannes Florig is listed as living in a house on Obergasse 53. This Johannes is also described as a member of the 9th generation of Florigs to occupy this residence. As a general rule, one can estimate that a new generation of a family comes every thirty years. If that were to hold true here, Obergasse 53 may have been the very house that appeared in the lawsuit.
The same town archivist who tells about the land dispute has also reported that there are additional documents about family members of the period buying and selling houses, but that none of the houses seems to have been very valuable. The family fortunes, apparently, did not progress much beyond George. According to Koerner, if the Flohris were not a wealthy family as these figures indicate, they might have emigrated illegally (i.e., they did not announce their intentions beforehand), thus leaving no official records behind of their departure; they would have done so to avoid paying back debts and taxes, taxes that George would have been subject to on his return. There were other emigrants from Birkenau who were also carpenters and who were also more successful in their profession than the Flohris, especially a family named Krall. Therefore, even if George, had inherited the family business and not his uncle Peter, it may not have been profitable enough for him, and he may have wanted to check out the prospects in America.

The 1718 baptismal record of George Flori, the eldest of the three brothers.
There is one other mystery surrounding Johann George Flohri. In the baptismal record of the Birkenau Kirchenbuch for November 22, 1765, a Johann George Flohri, son of Johann George Flohri, burger, is listed as a witness (probably godparent) for the christening of Johann George Low, son of Andrias. Who is this son of Johann George Flohri and where and when was he born? The Kirchenbuch lists but one son for the elder George, a Johannes (as opposed to Johann George) born in 1751. The priest who recorded the entry in 1765 could have erred and confused the name of Johann George with that of Johannes. However, if this was the case, that Johannes would have been but a mere 14 at the time, a possible but unlikely age for a godparent. The Johann Georg Flohri born in 1718 remains an elusive and mysterious figure.
Johann, the father of the three brothers (George, Johannes, and Adolph) had another son from his first marriage-- Johann Christian, born in 1721--who warrants some attention. Since German naming patterns of the period focus on middle rather than first names, Johann Christian would probably have been known to his contemporaries as "Christian" or "Johann Christian" rather than as "Johann" or "Johannes. " His brother, Johannes, born in 1724, was not given a middle name at his baptism so he would have been known simply as Johannes or, in America, as John.
An intriguing possibility about this Christian appears in Strassburger's study of 18th-century ship lists, where he records a "Christian Flohrig, " probably illiterate, as having immigrated to the port of Philadelphia on the ship called "Mascliffe Galley" on December 22, 1744. Perhaps, this Christian and the Birkenau Christian were one in the same, and ultimately there were four brothers, not three, who came to America. The 1200 Year Book of Birkenau indicates that the first known foreign emigration of a town resident occurred in 1738, although that resident is not identified. Thus there would have been a precedent for Christian. Unfortunately, the book also indicates that virtually all of the emigration records of the period have been lost, so it is not possible to verify the departures of any of the Birkenau Flohris from local sources. The rendition of the surname of the1744 immigrant as "Flohrig" on the ship's list approximates the spelling that was adopted by the Birkenau Flohris in the 1760's and may have reflected an alternative pronunciation that was already developing in the town.
At present, it is not known precisely in what town the immigrant ancestors of the Birkenau Flohris were born. There is no birth record at the Birkenau church for Peter Flohri, the grandfather of the 1754 half-brothers and the son of Hans and Apollonia, although there is his 1671 marriage record. Nor are there records in the city of any possible brothers or sisters for Peter (although there is a record of his brother, Hans George, in Hohensachsen, as we have seen). All of this indicates that Peter, like his father, was not born in Birkenau. Although current family tradition in Birkenau has it that Hans Flohri had been born in Switzerland, he and other Flohris may have first immigrated to Southern Germany . In a town called Schopfheim in that region there was a family of Floris, who, sources suggest, perhaps emigrated from Switzerland in the late 16th century. Included among these were a Gerg Flori, whose first son, Hans, was born on October 5, 1606, a Melchior Flori, father to another Gerg on June 7, 1607, and a Barthli, whose eldest child, Verena, was christened on May 4, 1617. There is no known connection between the Floris of Schopfheim and the Floris of Birkenau, but , given the Swiss link, they may have had common ancestors.
Swiss records indicate that there was a family of Floris in the town of Wohlen, which is not all that far from Schopfheim. There are 14th century references to Fluris/Floris from Reichenau to Constance, all in one region near Schopfheim that includes areas north and south of the "Hochrhein," a part of the Rhine between Basel and Lake Constance. If the Birkenau Floris were Swiss, perhaps their ancestors came from this region. The main center of Swiss Floris, though, was in and around Solothurn, particularly the town of Herbetswil. The International Genealogical Index, maintained by the Church of the Latter Day Saints, records more Floris living in this area in the 16th and 17th centuries than there were Floris in all of Germany. The Solothurn Floris were largely Catholic and nothing has been found so far tying them in with the Birkenau Floris; still the possibility exists that the families were related.
II
The brothers' arrival in America in 1754 had been preceded by that of another Flory, Joseph, from Palatinate (possibly from Wuertemberg, possibly from Bavaria) who had sailed on the ship Hope in 1733 with his sons, Johannes (15) and Joseph (19), and his daughters Hanliey (17) and Maria (21). Joseph himself was 51, when he signed his various oaths of allegiance to the King and the Mayor of Philadelphia on August 28 of that year. Bunderman theorizes that this group of Florys was related to the three brothers of 1754, perhaps Joseph was their uncle or, given his age, great-uncle. Such a relationship is possible, although the name "Joseph Flory" has not been found in any town near Birkenau or Schopfheim, although several Joseph Fluris were known in Solothurn in Switzerland. Still, there are so few Florys in Germany in the seventeenth and eighteenth centuries that one always has to consider the possibility that any individuals sharing that name might be related. Moreover, the first names of individuals in both the 1733 and 1754 families are peppered with similarities (Johann, Jacob, George, Maria, Elizabeth, Catharina, etc., although, admittedly these were very common names in 18th century Germany), and the state of Virginia seems to have been a popular destination for immigrants of both trees. No records have as yet been uncovered, however, that would indicate any communication between the two families in this country. Joseph's wife, according to LDS records, may have been born in Bayern (Bavaria), and this indicates one possible area from which his own family may have originated, but there is no known connection of the Birkenau Flohris to Bayern.
Both the 1754 Johannes and his companion John Georg were illiterate and they affixed "x's" to their names on the ship and loyalty oath lists of The John and Elizabeth. Their names appear variously in the ship records as "George" and "Johanes Flory," "George" and "Hans Florin," and "Geo." and "Hannes Florin." Adolph, as previously mentioned, appears to have been able to write his own name, for the ship list does record the bold and practiced signature of "Adolf Flohri." However, in Adolph's will of 1819, probated in Wythe County, Virginia, he was only able to affix his mark to the name of "Adolph Flora," which someone else had written out for him. He may have been too ill at the time to do much else. Since Adolph and his two brothers had different mothers, it is not difficult to imagine that they also had different educations. Still , for many Europeans of the eighteenth century, the concept of literacy did not necessarily extend much beyond the ability to sign one's name.
There were three ship lists preserved from "The John and Elizabeth." That Adolph was probably literate is indicated by the fact that his several signatures are in the same hand. George and Johannes were illiterate, as you can see from the "x" in the middle of their names on the C list.
Bunderman notes that "Florin" was the original spelling of the 1733 Flory family, and believes this version was the original form for the 1754 brothers as well. If so, that would predate the spellings of "Flohri" and the earlier "Flori" that appear in Birkenau church records. However, one must keep in mind that "-in" is a common German suffix that was optional in many names, although the practice does seem to have been confined to women. Also, since illiteracy was commonplace in the family, most of the early renderings of that name that we do have come from the pens of priestly scribes and not from the Flohris themselves. The current Flohris of Birkenau still follow priestly scribal conventions that first appear in the 1750's, and spell their name as "Florig," which, in their dialect, is pronounced on the order of "Florich." Still, Hans Flori of Birkenau was referred to as "Floren" in the marriage records of his son, Hans George, in Hohensachsen. Among the Swiss Fluris in Solothurn, the form "Florin" is occasionally used as an alternate spelling, even for men.
Perhaps a quick note on the meaning of the name "Flory" or "Flora" is called for here. The French surname "Fleury" is generally agreed to mean something on the order of "from the land of flowers," indicating a region in France from which the Fleurys originally came. In Germany, the situation is a bit more complex, as "Flory" names seem to come from several different sources. Wilhelm Schulze in his Zur Geschichte Lateiniscer Eigennamen links it to the Goddess Flora. On the other hand one sixteenth-century family named "Blum" or "flower," changed their name to "Florus" or "Flor" (also "Flohr") under the influence of a university education. They wanted to give their family name its Latin equivalent. There are several recorded instances of "Flohrs" (modern, Flower) in 18th century America, but it is not clear whether any "Flohrs" eventually became "Flohris." The name "Flora" in America seems to have derived from a Southern pronunciation of "Flory" rather than from any linkage with the Germanic goddess of flowers. When Adolph's son, John, emigrated to Illinois from Virginia, the spelling of the surname switched back to "Flory" or "Florey."
Many German Floris, like Hans of Birkenau, were ultimately of Swiss origin, and it is not clear what the origin of that form of the name is. It is possible that the Swiss "Flori" came from the French Fleury and that all Floris are ultimately of French blood. Still, the name "Flori" goes back to the 14th century in Switzerland, and it is likely that it came from some other source. Sabine Schleichert, our Flory genealogist, thinks it may derive from a German term meaning roughly "from the land," indicating, perhaps, that the family came from an agricultural area in the German part of Switzerland. Her evidence for this is that in one of the entries in the Swiss IGI of the records of Church of the Latter Day Saints the name appears as "uf der Fluri," or, "on the Fluri." "Flur" in German is a word for agraric land, pasture, or similar things. Thus, the original meaning might just be "someone who lives on a piece of land called Fluri." The Dictionnaire Historique & Biographique de la Suisse traces the name to Fluri and ultimately Florin, a noble family of the Canton of Grison in the 16th century. George F. Jones in German-American Names postulates that the original source of "Flori" is St. Florin. Others who agree believe that when Europe was Christianized many families changed their pagan surnames to Christian ones, and Florian, later Flurian or Fluri, was a result. In any event, whatever the source, it is clear that Bunderman was correct, at least in terms of the three brothers, and that "Flori" is tied in somehow with Florin, whatever the original meaning. I am grateful to Dorothy Scott for researching many of the above sources.
Moving on, little can be said about the relationship among the three Flohris in America. The names of George and Johannes always do appear together on the various passenger lists of the John and Elizabeth, most notably under the numeral 63 on LIST A that Strassburger, in his study of Pennsylvania Dutch pioneers, believes to be a cabin number. Adolph , listed under numeral 58 , shared a cabin or bunk with a Hans Geo. Miller. There were some cabins that contained room for three, so it is unclear why the brothers did not bunk together (Since ships of the period were small, the term "cabin" has to be applied very loosely. ). Adolph would have been only half brother to the other two, and may not have been that close to them. Johannes did, of course, serve as a godparent to George's son, Johannes, born a scant three years prior to the 1754 emigration.
Upon arriving in America, the "brothers" departed for parts unknown, but the earliest records we have of them suggest that at least Johannes, probably Adolph, and possibly George lived for a time in the area around Philadelphia and to the West. Bunderman cites the evidence of Rev. Alexander Decker, through a Philadelphia genealogist, William H. Mervine, that Johannes married a Christina Hahnin (aus Bechlob) on April 7, 1760. Mervine researched the records at the Lutheran seminary at Mt. Airy, Pennsylvania, a repository for Lutheran records from the area. The church in question was probably St. Michael's Lutheran Church (also called Zion) in Germantown, Philadelphia, which served as the only Lutheran church in the vicinity for German immigrants. Unfortunately, the pages in the register for 1760 have become faded and the entry for Johannes' marriage can no longer be seen. Only expensive technology can, perhaps, restore what has been lost.
Johannes and Christina's first child, Johannes II, was born in Philadelphia on October 10, 1761. According to Bunderman, the family then moved to Williams Township in Northampton County, Pa. in 1766, although the earliest record of their presence there that I have been able to verify is that of the birth of their son, Ludwig, in 1768. Johannes worshipped at the First Reformed Church of Easton , from which the German Evangelical Lutheran Church split off in 1831. Although he was not an officer in the church, Johannes appears to have been relatively religious and to have formed many friendships with other members of the congregation. He is included as "Johanes Flora" on a list of communicants for Aug. 16, 1770. He and his wife served as sponsors at the baptisms of Catherine Hertfield on July 28, 1782, James Otto on February 21, 1784, Samuel Hep on May 22, 1791, and Susanna Wudringer on Nov. 12, 1796. John and Christina were also listed as godparents to Johannes Krauss (?--the writing is unclear in the original church document), son of John and Elizabeth Krauss. This couple is probably the pair John Ludwig Knauss and his wife, who were sponsors at the baptism of John's own son, Ludwig, on February 13, 1768. Ludwig Knauss was a church elder, and the oldest record of the church is that of the baptism of his son , Ludwig, on September 28, 1760. Johannes' third and last son, John George, generally known as George, was born in Williams Township on July 4, 1777 and baptized at the First Reformed Church on October 5 of that year.
In addition to their three sons, Johannes and Christina also had a daughter, Elizabeth, who was probably was born soon after Johannes II. While Bunderman does not list her as having a husband, the records of the First Reformed Church of Easton record an Elizabeth Flore as having married a Peter Hill on Sept. 18, 1787. That this Elizabeth was undoubtedly the daughter of Johannes and Christina is indicated by the fact that they were sponsors at the christening of Elizabeth Flore Hill's son, Johannes, on Sept. 18, 1788. Church records at Easton do not list any additional children for Elizabeth, nor do they indicate when she died; therefore, it seems likely that she and Peter left the area shortly after the birth of their child. Johannes and Christina probably had three other daughters, Anna Margaretha, who married Philip Watring in 1789, Sophia, who married Nicholas Dietz in 1798, and Catharina, who married Peter Schneider in Easton in 1801. Of these three, Sophia is the only one who established any sort of presence in Northampton County, having had seven children in the area and having died there on July 26, 1843. Anna Margaretha and Catharina apparently left the county with their husbands soon after their marriages as no further records exist at the First Reformed Church pertaining either to them or to their husbands
When the Revolutionary War began about ten years after to his move to Williams Township, Johannes remained loyal to his adopted country and took his oath of allegiance to the state of Pennsylvania on May 25th 1778, abjuring George III. His half-brother Adolph had taken his on December 27th of the previous year from Samuel Rea. Upon giving his oath, Johannes received a certificate, without which he could have been arrested and imprisoned when walking on town streets.
Johannes' loyalty did not involve military service. He was too old. However, his son Johannes II did enlist as a private at the age of 20 in the Revolutionary War army (Capt. John Wagoner's Company of Northampton Co. Militia, 4th Battalion, commanded by Stephen Balliat), but his service was short, lasting a little over a month from Aug. 20, 1781 to Sept. 22 of that year. It is not known why he left the army so soon after joining, although a muster roll for his company reprinted in the Pa. Archives (series 5, volume 8, p. 323) suggests that he may have found a substitute. His uncle Adolph was also in the army as a 6th class private. Johannes II's brother George, born in 1777 in Williams Township in Northampton County, was obviously too young to be a Revolutionary soldier, but, according to McCauley in the Historical Sketch of Franklin County, he was a member of the Greencastle Company in 1814 during the war of 1812.
It is always difficult to estimate the worth of an individual from Colonial times. Still, on the basis of existing tax lists preserved in the Pa. Archives, Series 3, Vol. 19 for Williams Township, Northampton County, Johannes appears to have been relatively prosperous. In 1785, for instance, he paid a tax of 9 pounds, 4 shillings on 100 acres of land, two horses, and 1 cow. In 1786, his tax was reduced by 4 shillings, even though he had added another cow. In 1787, both his tax and his property remained as constants. It is not clear whether Johannes owned the property that he farmed, however. There is no surviving deed in Northampton County Courthouse records listing his name, nor is there a reference to any land in his will. According to Jim Wirth, a descendent of Johannes' son George and a family archivist, tenant farmers of the period, rather than the actual owners, were often taxed on the value of the property that they worked. This might help to explain why there are tax records for Johannes, but no property records. On the other hand, many early Pennsylvania German settlers were "squatters," and this may also have been the case with Johannes. In any event, no records have been located tying in any of Johannes' three sons with the property, so it seems to have been neither sold nor inherited by a Flory.
Virtually all of the early Florys were farmers, but they probably had other skills as well. Many were carpenters and cabinet makers as was the original Birkenau Hans Flohri, his son, Peter, and also many of his grandsons. The woodworking tradition is carried on in America even today through Theodore Ernest Florey, a retired carpenter and clock maker. Johannes I's son George was a cabinet maker, and Daniel Harmony, a foreman of the furniture factory of H. Sierer and Co. in Chambersburg, is cited in The History of Franklin Co. (1887) as one who "learned cabinet making under the instruction of George Flory and Son." Keve, in his early 20th century genealogy that has some fascinating glimpses on the early Florey family, notes that a Mrs. Beck of Bangor, Pa. still had in her possession a grandfather clock which Johannes II had made. Johannes II had other skills as well. According to a family tradition which I have not been able to verify, he traveled up the Delaware River from the Easton area, settled in Upper Mt. Bethel, built a brick factory, and then constructed one of the early churches in Centerville, Pa.
Johannes I died in May of 1801 and was buried in Old Lutheran and Reformed Cemetery of Easton, Pa. in an unmarked grave. In his will dated April 2? 0f 1801 and probated on the 16th of May, Johannes left all of his goods to his son, Ludwig, and his wife, Christina, with the proviso, as was common in wills of that time, that the widow stay with the son. Included in the division were one wagon, the two best horses, and gear for those horses, all of which went to Ludwig, a skillet, two coffee pots, a lantern, a table, and other household goods, which were bequeathed to Christina. The rest of the horses were to be auctioned off to pay various fees and debts. The total value of the estate was estimated to be a little over 84 pounds sterling. Ludwig's brothers, Johannes II and George, were excluded from the will as were all his sisters. Presumably, Ludwig was the only son then living with the family, and Johannes wished to ensure the comfort of his widow through his son. For whatever reason, Ludwig eventually left Northampton County and moved to McConnelsburg in Fulton County, Pennsylvania. Whether or not he took his mother with him is not known. Also unknown is the place where Christina died.
Johannes' will is easily obtainable from the Northampton County Courthouse in Easton, Pennsylvania. A description of the will, based on information supplied by John Garner Flora, also appears in Bunderman's history of the family. However, this summary differs in so many significant details from the original will, that it is possible several wills were confused. Bunderman, following Garner Flora, incorrectly lists the name on the will as "John C. Flora" rather than "John Flory," states that the entire estate "was left to wife" rather than the bulk to Ludwig, includes among the contents of Johannes' belongings fifteen acres of land whereas the actual will makes no mention of such property whatsoever, and is incorrect about other features of the inheritance.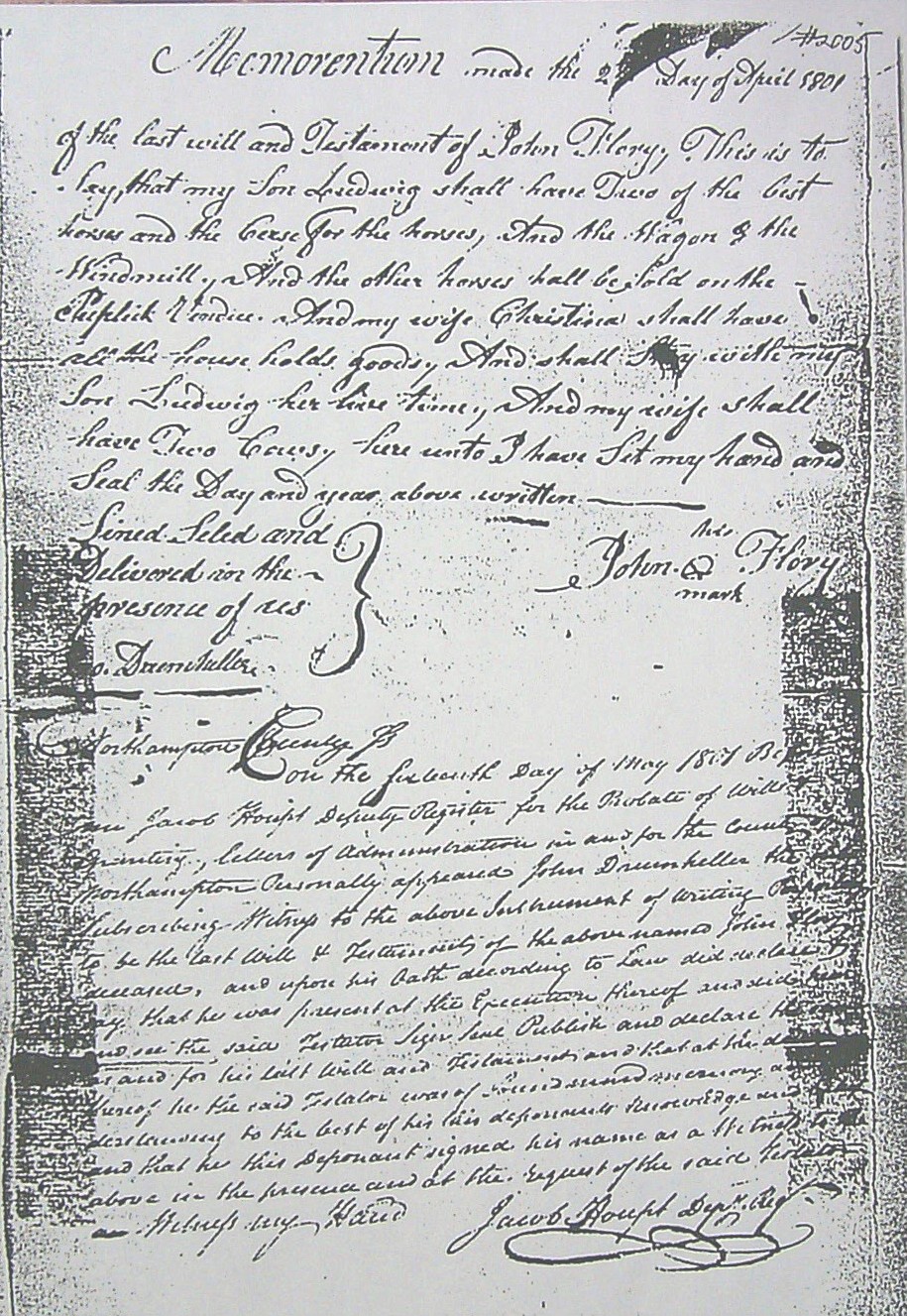 The will of Johannes Flohri, which indicates that he was known in America as "John Flory" and that he was still illiterate.
A Bible, said to have been brought to the United States by Johannes Flohri, is in the rare book room of the Philadelphia Historical Society. Although the Bible is not available to the public, selected pages have been copied for viewing. The Bible is written in German. The book was given to the Philadelphia Historical Society by Blandina Jayne (Harrington) Foster, daughter of Ann Jannette (Kemmerer) Harrington, daughter of Elizabeth (Flory) Kemmerer, daughter of Peter Flory, son of John Flory, son of Johannes Flohri. The selected pages contain the genealogy of Peter Flory.
To date, no will has been found for Johannes' son, Johannes II, although examples do exist for both Ludwig and his brother, George. Ludwig left a very small estate. His will, which was made May 16, 1850 and probated on December 20, 1851, can be found in the McConnelsburg Will Book, Vol. 1, page 20. His first wife, if living, was to receive 1/3 of the property; if she was not, that portion was to go to his daughter, Catherine, who was married to William Flencie. Of the remainder, the eldest son, Charles, was to receive $20 and the youngest, William, but $10.
According to the Franklin Co., Pennsylvania Will Book "F," p. 266, George Flory's (Johannes' third son) will was drawn up on Dec. 1, 1857 and was probated on June 20, 1858. George was most concerned about his daughter, Christina Sophia, to whom he bequeathed his house and property on Main Street in Chambersburg, with the proviso that, following her death, the property be sold and the proceeds dispersed equally among his other children or their heirs. His son, William, also received land in compensation for "working for [George] after he was twenty one years of age," along with George's carpentry tools, but not the shop itself. The remainder of the property was divided equally among all of George's living children, who, in addition to Christina and William, included Henrietta Amelia, Catherine Augusta, Caroline Maria, and Lucretia Juliana. Catherine was listed as "insane" by the 1860 U.S. Census. George and his wife were probably buried in the First Lutheran Cemetery in Chambersburg, but there is no marker for him, and all of the Church's records were destroyed by Confederate troops during the Civil War. To date, the surname of George's wife, Henrietta Barbara, remains unknown.
III
Johannes I's brother, Adolph, also settled for a while in Northampton County after having possibly lived in Virginia and then at New Hanover in Montgomery County, Pennsylvania. In settling to the west of Philadelphia, Adolph was following a pattern established by German immigrants at the beginning of the eighteenth century. There was a class among these immigrants called Neulaender, who made it their business to return to Germany to persuade other Germans to give up their property and come to America and settle within the Deutsch communities that were being established, Montgomery County being one of the more popular areas. Often these Neulaender were in the employ of British shipping companies who imported Germans (along with Scotch and Irish) to serve as cheap labor in the colonies. Since they were used as agents whose renumeration depended on the number of their countrymen they signed up, they often severely misled potential recruits about life in the New World. Some of them reportedly even forged letters allegedly from relatives of their prospects telling them what a pleasant journey it was to America and what wonderful opportunities awaited them here. There is no evidence that either Adolph or his brothers were recruited by Neulander, but it would not have been unusual if they were.
Some German immigrants had no choice as to where they would settle once they arrived in the United States, and their immediate circumstances were often determined by the financial interests of English sea captains. Under old English Navigation acts, all traffic to and from a British colony, in this case America, had to be carried in British boats, manned by British crews. Even though the John and Elizabeth, for instance, carried German passengers, it was English owned and operated. If a German immigrant did not have the money for passage, he could "bond" himself to an English captain, who "sold" all of his indentures at public auction in Philadelphia, generally for a figure around ten pounds. Once in America, the indentured immigrant could theoretically avoid being auctioned as he usually had a grace period of fourteen days to raise the money to pay his debts. Few were able to do so. If he couldn't obtain the money for his release, the immigrant then labored for a period of three to seven years to work off his bonds, although sometimes friends and family members would help out to reduce the time of service. These German immigrant debtors were called Redemptioners, and their numbers were especially large in the years of 1728, 1729, 1737, 1741, 1750, and 1751. While it is not entirely clear what the status of the three brothers was, Mrs. Eva Florey Chapman, in a booklet that she wrote sometime prior to her death in 1929, cites family tradition that the three brothers were sold to pay for their passage to America, Adolph, whom she calls Adam, to a man in Virginia, and the other two to a man in Pennsylvania. When the brothers arrived in this country, they must have been at least semi-skilled in a trade, considering their background in carpentry. Since the need for unskilled labor in America had diminished considerably once the century had reached its mid-point, the brothers, if auctioned off for debt, would have attracted interested bidders.
Because there are no records of any of the three brothers until 1759, the hypothesis that they may have been serving out their time as debtors is a viable one for both Adolph and Johannes. It may help to explain why Johannes waited until 1760 to marry. Redemptioners could not marry without the permission of their masters, a permission that was not often given. One other circumstantial piece of evidence that might indicate the Redemptioner status of at least Johannes is the fact that he and his wife were married at St. Michaels Church in Philadelphia.
According to Sharon Salinger in her study "To Serve Well and Faithfully" Labor and Indentured Servants in Pennsylvania 1682-1800, approximately 50% of all German immigrants were Redemptioners. Of this group, at least 50% were indentured in Philadelphia. Johannes may have stayed in the area for several years after he had completed his term of service.
Chapman may have been incorrect, though, about George also being a Redemptioner. If the 1754 George was the 1718 George, his stay in America could not have lasted longer than 3-3 1/2 years, and it is unlikely that he could have both worked off a debt and raised passage money for his return within that period. He must have taken sufficient funds with him on the trip over to pay for much of his round trip ticket.
The typical German, incidentally, served out his entire indenture. Once bonded, German immigrants, though generally treated very poorly, seldom tried to escape. They may have felt duty bound to honor their agreements. If they did not, their lack of English skills acted as an invisible wall to any plans they may have had to free themselves. Most indentures, having served out their bonds, remained relatively poor and accumulated little wealth. If Adolph and Johannes were Redemptioners, they were fortunate in their ability to obtain at least a modicum of property.
The voyage to America from Germany in a ship such as the John and Elizabeth was rather long, typically beginning in the spring, around May, and lasting until October or November. The journey was lengthened by the fact that ships sailing down the Rhine from Germany to Holland had to pass by as many as 26 custom houses, where they were required to stop for inspection. Ships that carried passengers were often held up at these ports, and passengers had to spend money from their meager reserves for food. When the ships arrived at Holland, generally Rotterdam, they were detained for up to an additional six weeks. As a result, even passengers who boarded with full fare had to become indentured to the captain to pay off their debts. But the ordeal was not over. Ships then headed for the English port of Cowes on the island of Wight, then the principal port for immigrant traffic, although some also stopped at Dover, Plymouth, London, and, in the case of the John and Elizabeth, perhaps Portsmouth. The journey then from England to America lasted from seven to twelve weeks, with passengers, in exceedingly crowded conditions, suffering from boredom, thirst, hunger, disease, and storm. The mortality rate was high, particularly among young children.
The entire exodus from Palatine was regarded as a serious threat by the Pennsylvania English. According to Israel Daniel Rupp in his 1845 history of Northampton County, the Palatines moved onto vacant land, seldom worrying about deeds, mortgages, and taxes. One writer, Samuel Wharton, proposed in response to the situation in 1755 that the Palatine children be required to learn English, that all their bonds and deeds be written in English, and that all German newspapers be outlawed in order to acculturate the new immigrants. Clearly, the new immigrants felt threatened and restricted by the English and did not take well to their proposals. Many, sobered by their journey to America aboard an English ship and often cheated by English merchants once they were here, congregated in German communities for protection and safety.
Such bonding could be seen in particular at Pennsylvania churches where German immigrants usually worshipped together. Sometimes such strong friendships were formed that when one family left the area, others soon followed along. One such family who worshipped at the New Hanover Lutheran Church along with Adolph was that of Adam Breidinger and his wife, Anna Sibilla (surname unknown). Adam had arrived in America on the ship "Mary and Sarah" from Beerfelden (a town that is situated about twelve miles from Birkenau) in Germany in October of 1754, a month prior to Adolph's arrival. At least three of Adam's children were recorded as having been baptized at New Hanover Lutheran, John Michael, born January 23, 1759, Maria Eva, born March 21, 1761, and Elizabeth, born September 29, 1763. Adam eventually moved with his family to Plainfield Township in Northampton County, around the time Adolph migrated to the area, where he purchased 143 acres from Lawrence Broeder on August 16, 1777. Adam's daughters, Maria Eva and Elizabeth were eventually to marry Adolph's sons David and John. Adam's friendship with Adolph, while probably developing in Montgomery, may actually have started back in Germany since Beerfelden, Adam's hometown, is so near to Birkenau.
The dates of Adolph's residence in Philadelphia are unknown. However, he was a witness to Michael Renn's will on March 17, 1767, along with Johannes and George Krauss. Renn was a Philadelphia carpenter, and his will is referenced in Book O of Philadelphia Co., PA wills and abstracts, 1766-1770. Number O-123.
The earliest record that exists showing Adolph's own migration to Northampton is a land survey on June 18, 1774, reprinted in the Pa. Archives, Series 3, Volume 36, page 77, indicating that he owned 16 acres of land. It is not known, however, when he first bought his holdings or when he first moved into the area of Mt. Bethel. Adolph's sons, John and David, were, like their father, veterans of the Revolutionary War Army, with John serving as a 6th class private in the 8th Co., 5th Battalion of Northampton Co., and David as a Corporal in the 2nd Battalion of Northampton Co. in 1782 and 1783. Adolph's term of service lasted approximately two years. References in the Pa. Archives list him from 1781-1782 as a class 6 private in Company 2, 2nd Battalion, of Northampton under Captain John Lyle in 1782 with his own son, David, as corporal above him. In a list from 1783, an "Adam Florn" appears in the same company. Even though Adolph is sometimes referred to as "Adam" in other records, the reference here is undoubtedly to an Adam Horn, whose name is appears with the same company in the preceding year. It is not known whether Adolph ever went by the name of Adam, even though his name appears as such in several records.
When Adolph's son David came upon hard times later in Virginia, he attempted to use his war record to secure a pension, although he omitted reference to his Northampton County service in favor of what was apparently an earlier enlistment. The Order Book of Wythe Co., Virginia for June 8, 1819 contains his declaration that he joined the army in 1781 in a company commanded by Captain Baker attached to Colonel Monroe's regiment. He enlisted in Berks County and served 18 months at one time and was in a few skirmishes in the lower part of South Carolina. One of these "skirmishes," which he doesn't identify, was fought in Charleston. David later served under Colonel Butler and Captain Dunn. At the time of the petition, he alleged that he was in reduced circumstances and "needed his country's assistance." The only proof of his service that he brought along was the sworn testimony of his brother, John. There is no record that David's petition was acted upon favorably. On the other hand, according to a Decatur Illinois newspaper article from May 2, 1971 reporting on a marker that the DAR had installed on John's grave, John Flora had refused such a pension himself, even though he had been offered one.
David's financial problems are evident in court records relating to him in the Botetourt County Circuit Order books found in the Clerk's Office in Fincastle, Virginia. He was often the subject of law suits for not paying his debts. Peter Hawk sued him on June 10, 1794 for five pounds, five shillings. David failed to respond, despite thirteen summonses from the sheriff, and on October 14, 1794 judgement was rendered against him for the above sum in addition to interest. John Riddler sued both Benjamin White and David Flora on May 8, 1798 as did Thomas Newill on December 11, 1798, and John Riddlesbarger on December 9, 1800 (against both Flora and Samuel Noftzinger for fifteen pounds, eight shillings). Not all was bad for Flora at the courts, however. On January 13, 1795, he petitioned the court against Robert Kyle, a case that was apparently settled out of court with Kyle paying costs. Moreover, on September 11, 1798, Flora was appointed Surveyor of the Highway in "room of Samuel Noftzinger" and with the usual hands "is ordered to keep the same in repair." Flora was relieved of this post on January 14, 1801, and was replaced by James Newton.
David's problem may have been more than simply financial. According to some researchers, David might have been a bigamist, at least a potential one. There is a reference in state of Virginia Wythe County Marriages (page 46) to a bond on Nov. 4, 1815, between David and Martha Gray, a widow. Eva, David's first wife, did not die until 1826, and he served as the administrator of her estate. How formal an arrangement the "bond" was is difficult to determine from the records. Whatever the case, David is not as favored as his brother John is in Adolph's will, reflecting, perhaps, Adolph's concern over his son's marital or financial problems.
John was far more prosperous than David in terms of both wealth and offspring . With his two wives, Elizabeth Breidinger and Mary Ott, he had at least 21 known children. When he left Virginia for Illinois in 1829, he needed four wagons to carry his family and his effects to his new home on John's Hill in Decatur. In an article for the Central Illinois Genealogical Society in 1971, Mrs. Georgia Thompson records that he set up housekeeping in a log cabin and that the family lived "pioneer style," dressed in buckskin and wearing coonskin caps. Their beds were made of poles, inserted between the logs and overlaid with clapboards. Although he owned a saw and gristmill in Virginia, he was primarily a farmer in his new home. He and his wife are buried in Old Florey Cemetery, which is located about one mile northeast of Long Creek in Illinois. A copy of his family Bible still exists, which lists fifteen of his children. The Bible suggests that he was literate and that he spelled his name as "Florey" rather than "Flora."
John and David's father, Adolph, was in his late forties when he was in the army, and there is little indication that he ever was involved with more than reserve duty. A rather curious entry, however, pertaining to his war record is found in the Pennsylvania Archives, Series 3, Volume 6, page 737. Samuel Rhea, probably the same man who earlier heard Adolph's oath of allegiance, lists Adolph in a report on "Tour Fines" and sets the figure of 100 pounds next to his name. It is not clear what Adolph was fined for, or whether he was necessarily even being fined. 100 pounds was a rather large sum in those days, and perhaps the figure refers to money that was owed Adolph by the army, although that is unlikely.
Adolph had more of a wanderlust than did Johannes, and on June 4, 1787, he sold his lands as part of a migratory process that would eventually send him to Botetourt, Virginia with his sons and daughters. Presumably the family move included his wife, Catharina, but because she was not mentioned in his will and because no death record as yet has been found for her, it is impossible to place either her date or place of death. It is not known why or even when Adolph himself left Pennsylvania (some suggest as early as 1784--his land sale of 1787 actually occurred after he left Pennsylvania), but if he had been fined 100 pounds by the army, he may have been deeply in debt. His Northampton lands were sold to John Beysher, a fact that was sworn to and recorded for some reason on September 25, 1820 by John Arndt, Justice of the Court of Common Pleas in Northampton.
No one knows precisely when Adolph arrived in Botetourt, but in the Tithables Book, Vol. II, page 241, held at the Botetourt County Circuit Court Clerk's Office is a sheet labeled "A List of Tithables in the Brounds of Captain John Mills Company of Militia . . .November 10, 1786" that includes both Adolph and his son, John. Adolph's stay in Botetourt was relatively short. He bought 300 acres of land in Draper's Valley in Wythe Co., Virginia, in 1791 from John Lowthain and an additional 88 acres five years later. These lands included 45 acres of Alexander Mack's land, located on Mack's Run, located east and south of the Draper homestead. It is not known how or where Adolph obtained the money for these purchases.
When Adolph died, he left all his land to his sons, John and David, with John obtaining the land that both he and his father resided on. David received the land upon which he lived, and a line was to be run by Francis J. Carter to separate the property of the two brothers. David, however, apparently had already sold some of the lands to John. Adolph willed 100 dollars to his married daughter, Christine Grabill, and money and household property to his unmarried daughter, Katherine, with the directive that she should live with John, who, along with John Draper, would act as her guardian. Adolph also freed his one slave, Jacob.
The Birkenau Church record of Adolph's baptism
Steve Flora, while searching through the Frederick County, Virginia Will Book 4, pp. 35-37, has found reference to a will for an Adolph Flor, who died in that county in 1770. Frederick County is in the upper "point" of Virginia and on the route between Philadelphia and Botetourt County. Who this Adolph Flor is or who he was descended from are intriguing questions. He could not have been related to Adolph Flohri, whose ancestry is known. In general the name "Flor" seems to have been German. The name "Flohri," with its "ee" suffix phoneme, appears to have been Swiss. Although it is tempting to see a relationship between the family names of Flor and Flohri, there probably is not.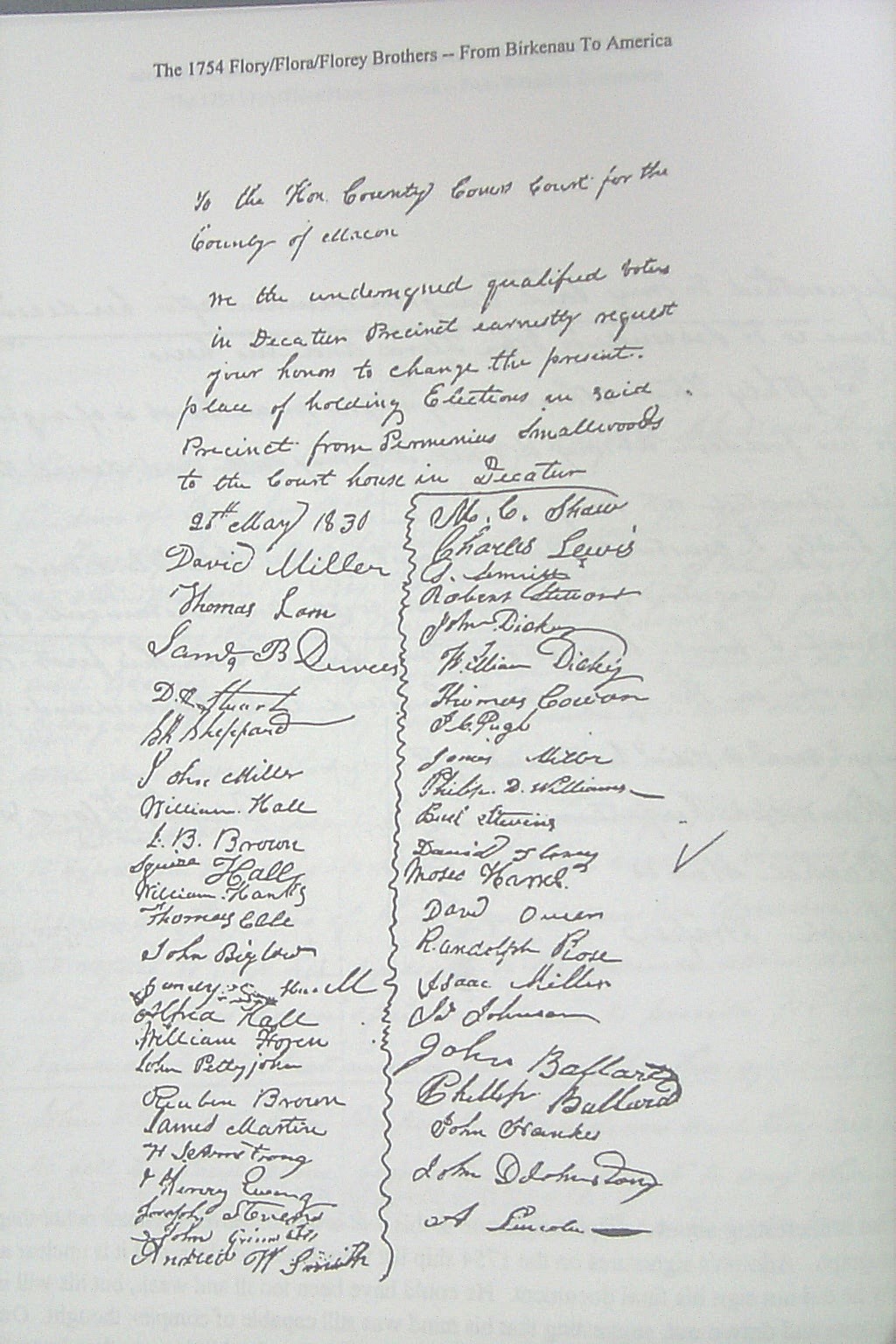 This interesting document is a petition from Decatur, Illinois. If you see the checked name, you will note that one of the signatures is that of David Florey, descendant of Adolph. At the bottom of the page is the signature of another luminary that you might recognize, Abraham Lincoln.
IV
As was mentioned earlier, nothing definite is known about George Flohri, brother to Johannes and half-brother to Adolph, once he arrived in America. Bunderman cites the Keve genealogy as indicating that George did locate in Lower Saucon Township in Northampton County, but later moved in Botetourt County, Virginia, where Adolph had once lived. Keve, however, confused George with Johannes, ascribing the latter's children to the former; thus it is really Johannes, not George, whom he locates in Northampton. In the documents of the town of Fincastle in Botetourt, Virginia, there is a record of the marriage of a George Flora's daughter, Migy, with Frederick Taylor on Dec. 17th, 1797. While Bunderman assumes that this George Flora was, in fact, Adolph's brother, no record that specifically links the two in this area has as yet been found, and it is not likely that the Botetourt George is the 1754 George, who, as we have seen, probably died in Germany in 1777.
What further muddles the questions of what happened to George Flory and where he located --if he ever really located anywhere, even temporarily-- is that there were several other men with similar names living in Pennsylvania, Maryland, and Virginia in the latter half of the eighteenth century who could easily be confused with him. For example there are records of a Rev. George Daniel Flohr, also from Germany and approximately the same age as the brothers, who lived for a while in Wythe County, Virginia where Adolph eventually moved. Moreover, records of the Augustus Evangelical Lutheran Church and of St. Paul's Lutheran Church, Barren Hill, Whitemarsh Township, both located in Montgomery County, along with the personal records of the Rev. John Casper Stoever dealing with Southeastern Pa., all indicate the presence in that area of a man named Johann George Flohr and his wife, Maria Catharina Metz. Their child, Christoph, was baptized at Augustus Evangelical Lutheran on Feb. 4, 1756, and they served as sponsors to the baptized infant, John Jacob Metz (Atolhoe) on April 6, 1755. Since Adolph and Catharina Flora's first child, David, was baptized in the same county at New Hanover Lutheran Church on June 29, 1759, it is tempting to speculate that Johann George is the missing third brother, who possibly had abandoned his German wife. However, if Stoever's dating is accurate, he apparently married this George and Maria on December 16, 1753, nearly a year prior to the three brothers' landing in America. While his dating is probably correct, it is important to note that the dates found in early preachers' records are not always reliable. Since America still had many sparsely settled areas that lacked their own churches, ministers did travel widely. When they married and baptized people, they often recorded the event in the registers of their home parish. Because they did not necessarily remember all dates when they returned home, entries were sometimes made in whatever space was available. Thus it is possible, although extremely unlikely, that the Johann George of Montgomery County is the Johann George of the John and Elizabeth. What else may invalidate this John George, though, as a candidate for the 1718 John George is that Strassburger records a John George Flowr as having arrived at the port of Philadelphia from Germany in 1750. It seems likely that "Flowr" and "Flohr" were variant spellings of the same name and that it was this John George Flowr who was the husband of Catharina Metz and not the Birkenau George.
V
The wives of many of the early Floreys suffered from the anonymity in records that was common to women of the period. The family name of Johannes I's wife, Christina (Hahnin or Hahn), survives only in one source, that of her marriage record. Nothing so far has come to light about her birth and death dates, her family, or even about the obscure "Bechtob," from which Dinkey records she seems to have come. It is not known whether she was buried in the Old Lutheran and Reformed Cemetery in Easton along with her husband or whether she accompanied her son Ludwig to McConnellsburg, Pa. and was eventually buried there.
Since it was common practice among Pennsylvania Dutch couples to name the first son after the husband's father and the second after the wife's, it may be that Christina's father's name was Ludwig Hahn. The name "Ludwig," appears nowhere else on the Flory family tree, and the early Germans were not disposed towards either originality or creativity when it came to christening their children. In Adolph Gerber's list of immigrants from Wuertemburg, he records a Ludwig Hahn and his wife, Barbara Ann as having a child, George Philipp, on April 16,1723. Ludwig and Barbara Ann would be about the right age to be Christina's parents. The Proceedings of the Pennsylvania German Society lists a Ludwig and Catherine Hahn as parents to a Daniel Hahn, baptized at the Zion Church in Philadelphia on February 5, 1752. There is no known link between this Ludwig and the earlier Ludwig, but they very well may have been father and son. Moreover, the Zion Church was where Christina Hahn and Johannes Flory were married in 1760. Christina, then, could have been the sister to Ludwig and the daughter of Ludwig and Catherine. All of this, of course, rests on a series of hypotheticals. And Ludwig Flory may very well have been named after his godfather, Ludwig Knaus rather than a Ludwig Hahn. Still, the possibilities are tantalizing. One other tantalizing possibility is that on the ship list of the John and Elizabeth in 1754 appears the name of Johannes Hahn. Johannes Hahn also could have been the father of Christina; if so, the likelihood is strong that his daughter was also on board. Because she was a woman, her name would not have been listed. Thus Johannes Flohri and Christina Hahn could have known one another at least six years prior to their marriage in 1760.
Adolph's wife remains equally mysterious. Her forename appears with certainty only once, and that is in the records of the New Hanover Lutheran Church as the mother of "David Floly" for his baptism on June 29, 1759. A second probable reference to her can be found in the register of the First Reformed Church of Easton relating to the baptism of Daniel Achenbach, son of Philip and Ann Maria on November 18, 1781. An Adam et Catharina Flori, uxor ejus (husband and wife) are listed as sponsors. That Adam was Adolph is prefigured by similar renditions of his name elsewhere. Moreover, a "Philip Achaback" appears on the list of passengers of the John and Elizabeth in 1754, and the new father may have been either that Philip or a son. Adolph, by any name, does not make another appearance in any document of the First Reformed. Could Catharina have been an Achenbach? The possibility is remote, but, in the absence of any other suggestion, is worth further study. It is not known when Catharina died or where she is buried.
A little more has come to light about Elizabeth Illick, wife of Johannes II and the ancestress of the Plainfield and Bangor Floreys. Her grandfather was Hans Rudolf Illig, who arrived at the port of Philadelphia on the ship Dragon on September 30, 1732, perhaps from the town of Buedigan near Frankfort on the Main, although Keve, in his genealogy, posits Switzerland. Rudolf and his wife, Magdelena, apparently had only one son, John Christopher, a weaver, who was born January 2, 1746 and died November 27, 1818. He married Elizabeth Huber on May 10, 1768. Elizabeth was born in Germany on September 15, 1746 and died on April 25, 1816. She is buried along with her husband, in Old Williams Township graveyard in Northampton County. Their daughter Elizabeth Illick Florey (11/9/1771-6/5/1831) was one of eight known children, the others being Johannes Philip, John, John Frederick, John Christof, John Philip, Christina and Anna Margaret. According to an obituary in The Northampton Democrat on Wednesday, July 5, 1837, Elizabeth died of dropsy in Upper Mount Bethel, about ten years after the death of her husband, Johannes II, and left eleven children and forty-five grandchildren.
Johannes I's son, Johannes II, was the only one of his sons to settle permanently in Northampton County. He married Elizabeth in 1791 and stayed within Lower Saucon Township, in proximity to his father , until 1811 when he and his family moved to Upper Mount Bethel in the same county. Johannes and Elizabeth had fourteen children , not all of whom survived childhood, the most prolific being Johann, the ancestor of most of the Plainfield Township Floreys (Plainfield is the only area where the "ey" spelling predominates) and Peter, whose line leads to the Bangor Florys (including Milton Flory, founder of the Flory Milling Co., and after whom Flory Dam was named). Johannes II is buried alongside his wife at Stone Church Cemetery, located on Route 611 in Upper Mount Bethel, Pa.
While the European ancestors of the three brothers remains shadowy beyond what is known about their grandfather, Hans, many Flory/Flora family historians traditionally have believed that the "Florin" and "Flory" spellings used to list Johannes and Johann George on the John and Elizabeth evolve from "Fleury," indicating the family's ultimate French Huguenot ancestry. A Pierre Fleury immigrated to America in 1732, another in 1804, a Francis Fleury in 1851, and a Victor Fleury in 1854 along with a Jerome Flury in the same year. The Huguenots were French Protestants (primarily Calvinists), for the most part a wealthier class who lived in the southern portion of that country and who derived their name from the fact that they used to gather around the castle of King Hugo in the evenings. On St. Bartholomew's Eve on August 24, 1572, up to 50,000 of their numbers were massacred for political as well as religious reasons. Many of the survivors scattered throughout Europe, especially Holland. The Edict of Nantes reestablished religious toleration throughout the kingdom, but it was revoked in 1685, and it became unlawful for anyone to practice any religion but Roman Catholicism. This caused a second exodus.
Bunderman theorizes that the Fleurys made their way to Palatinate and Wuertemberg, but if this was the case, they may have resided first in a country other than Germany, such as Switzerland or Holland, as most historians discount much of a significant initial German migration either in 1572 or in 1685. Bunderman postulates that the appearance of French forenames among certain Flory immigrants to America was caused by the fact that their ancestors had emigrated from France after 1685 and that their families had not as yet been fully assimilated into the Germanic heritage.
There is no doubt that the three brothers were fully acculturated Germans who were capable of settling quite nicely into the Pennsylvania Dutch society of Northampton County, even though their ancestors, whatever their original homeland, had only lived in Germany for about a hundred years. The gravestones of Johannes II and Johann, his son, are inscribed in Pennsylvania Dutch, and the given names of the early Florys in America such as "Ludwig" and "Adolph" are consistently Germanic. If the ancestors of the Flory brothers, though, were Swiss, they probably came from the German portion of that country, and later acculturation would not have been much of a problem. Nowhere in Birkenau is there any evidence that the ancestors of the brothers ever had French names. While there may have been some Flory families descended from French Huguenots, the family of the three brothers does not appear to be one of them. If they were Huguenots, as German tradition has them as being, they were Swiss Huguenots.
The migration of the three Flory brothers to America may have been occasioned by another historical event--the effort of William Penn to colonize Pennsylvania by reaching out to religious dissidents. Born in 1644 as the indulged son of a wealthy father, Penn eventually came under the influence of George Fox, who is credited with founding the Quakers around 1650. In March 1681, Penn obtained the large proprietary province in America that now bears his name. While many dissidents had already settled in Pennsylvania by the time the three brothers arrived, the date of 1754 is still within the parameters of the Penn-encouraged migrations.
Before leaving the subjects of name spellings and migration incentives, a few words should be said about another inhabitant of Northampton County who carried the Flory name, a Michael Flores, who, apparently, was born in Mecklenburg, Germany sometime prior to 1730 and who died in Upper Milford, Pennsylvania in 1773. He was survived by his son, Michael, and his daughters, Catharina, Elizabeth, Anna Margaretha, Barbara, and Maria. Strassburger records a "Michael Floris" as having landed at the port of Philadelphia in the year 1739, and this was undoubtedly the later Flores of Northampton County. The surname "Flores" has puzzled some who thought that, despite the German pronomen, the family was Spanish. Actually, the name was probably spelled "Florus" at one time, reflecting the Latin word for "flower." This was the form that was used by many of his great-grandchildren in Lehigh, Pennsylvania. Michael Flores may or may not have been descended from a John Heinrich Blum, who was born about 1550 in Schlitz in Oberhessen, Germany and died in Massenheim in 1628. Blum was a school teacher and scholar, who decided to latinize his surname, which, among his descendants, eventually became spelled "Flor." The name "Flor" or "Flohr" does appear in the 18th century in America not only in Pennsylvania, but also Maryland and Virginia. It is difficult to determine whether the original Flors and Flohris in America were ever at one time related.
VI
The line of Johannes II as it evolves in Northampton County, is not a difficult one to trace, at least not in its rough outlines. A Bangor, Pennsylvania re-union group met until at least 1914 and collected many records; the descendants of Johannes II for the most part, remained in the area; and local tombstone evidence bears witness to the accuracy of much of the census data. While there are a number of graveyards in the relevant areas of Northampton County, the two principal ones of concern for Florys are St. Peters in Plainfield and St. Johns in Bangor. With some exceptions, St. Johns is the repository for the descendants of Johannes II's son Peter, virtually all of whom spell their name as "Flory." The one exception to this spelling occurs with Peter's son Absolom, who, along with his descendants, uses the more southerly form of "Flora." In St. Peters are buried Johannes II's son Johann, or John III, and most of his sons' lines, including those of Jacob, Jesse, and Reuben. While there are some inconsistencies, most of Johann's, or John III's, descendants are "Floreys." A few scattered grave sites for Florys can also be found at Salem Methodist Cemetery in Bangor, where Peter's wife, Mary, is buried, Benders Cemetery (once Lutheran but now Mennonite) near Pen Argyl, the United Church of Christ Cemetery in Flicksville (near Bangor) , the Stone Church Cemetery in Upper Mount Bethel along Route 611, and St. Peters in Seemsville in East Allen Township. Close by, but outside the immediate area, are Northampton Flory tomb sites at Greenwood in Nazareth, at Bath Cemetery in Bath, at Laurelwood in Stroudsburg, at Easton Heights in Easton, and at Evergreen Hill in East Stroudsburg. Most of the Flory gravestones have fortunately escaped much of the weather-caused illegibility that is often found on other stones in these cemeteries. In all likelihood, if one's Flory ancestors were buried in Northampton County, their graves can be found. There are very few Florys who seem to have suffered the fate of Daniel Flory (1813-1895) whose gravestone at Benders is now missing.
The stones of Johannes II and his wife, Elizabeth, at Stone Church Cemetery were not always clearly visible. The Flory family historian, Rev. A. D. Decker reported that he had to make a thorough search one day in 1912 with Rev. Wenner, the Lutheran pastor of the church, through the cemetery to find where they were. As he writes "the moss has so overgrown the inscription on Elizabeth Florey's tombstone that we mistook a three for the figure five and . . . [I mistakenly assumed] that she raised fifteen children, but after I had made diligent search in the Orphan's Court at Easton and the church records at Hellertown and Centerville and could not find the names of the fifteen, I went again to the cemetery and scraped off the moss, and discovered that there were thirteen children [note she had at least fourteen] instead of fifteen. I felt happy for I had located the entire thirteen."
Today, both tombstones have been cleaned and the cemetery itself has been well maintained. A marker has been placed by the side of Johannes' grave by the DAR indicating that he was a Revolutionary War veteran, however brief his service may have been. His stone, though, is very dark and difficult to read. His wife's is much clearer, although the delicate marble from which it was made will likely suffer from air pollution that will obscure its lettering.
The first organized genealogical research in America on any of the 1754 brothers was initiated by the aforementioned Bangor Flory Association, whose purpose was defined as "the perpetuation of the good names of our ancestors." It first met at the offices of Milton Flory on January 2, 1909, and Samuel Flory of Bangor was elected President, Mrs. T. J. Foster of Scranton as Vice President, and Milton Flory as Treasurer. The main business of the meeting seems to have been to plan for the first family re-union, which was held on August 9 of that year at Lutheran Grove in Bangor, where the Rev. Alexander D. Decker of Dalton Pennsylvania was named Family Historian. The Association continued to hold annual re-unions at the Grove every year, except for 1912, when the meeting was temporarily located at Wind Gap Park and in 1914, when it was moved to Slate Belt Park. At the first re-union, a photograph was taken of "the older Florys," and according to the Tribune Republican of August 14, 1910, over 300 persons attended the second re-union.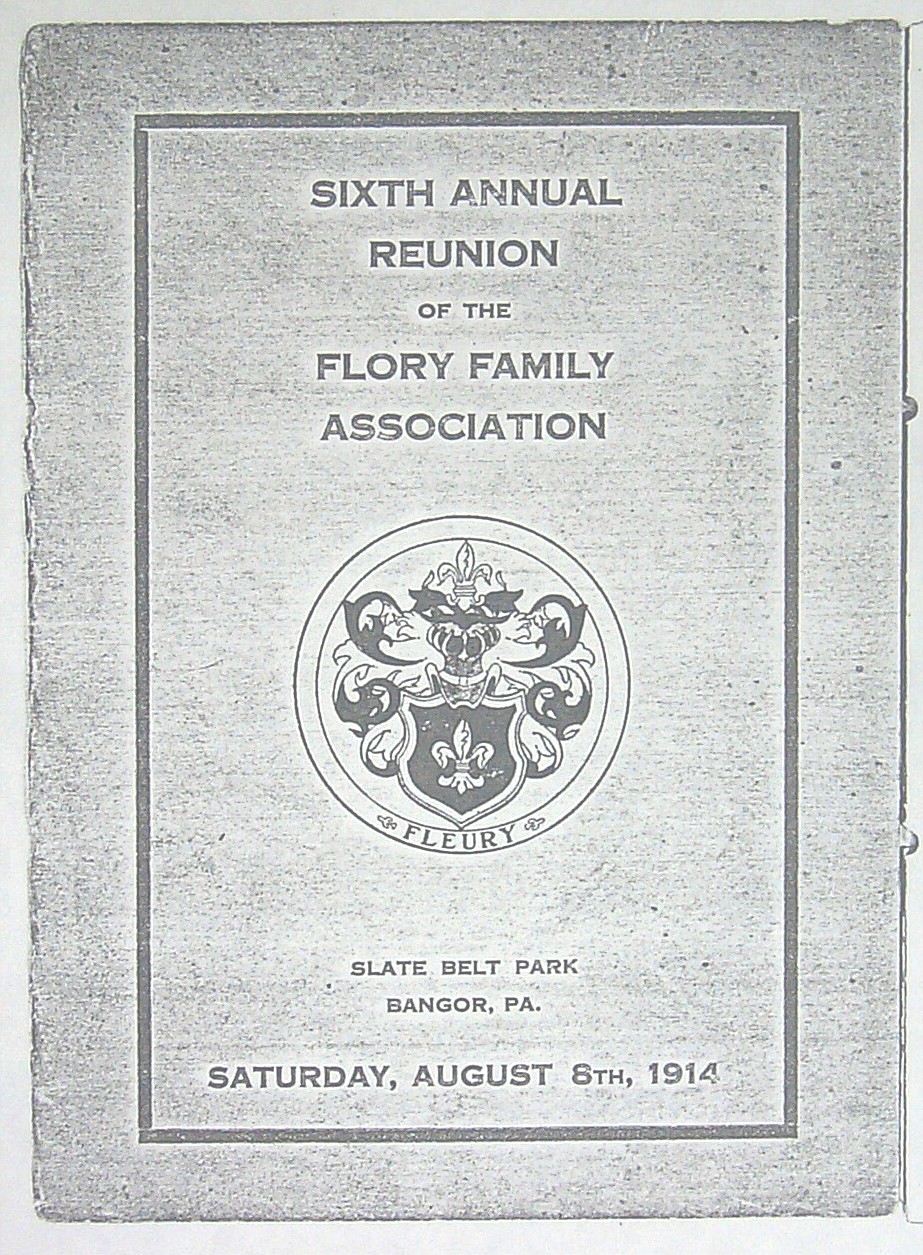 The program cover for the 1914 family reunion, perhaps the most significant of the meetings in terms of E line history
It was at the 1914 meeting where the Reverend Decker first revealed to Johannes Flory's descendants many of the facts and circumstances of early family history that apparently had become neglected and forgotten over the years. The invitation to the meeting promised that
The Historian Rev. A. D. Decker will have important data to

present at the reunion this year. He has found, after 5 years of

research, the name of our emigrant ancestor, the time of his

landing in Philadelphia, the record of his marriage and the record

of the birth and baptism of his eldest son Johanus Florey. Our

historian has traced the family from the landing in Philadelphia

down to the present and will present positive proofs substantiating

all the claims he makes. He has found where our emigrant ancestor

attended church and his name and the names of his wife and children

are recorded at the various times they partook of the Holy Communion.
In notes taken from the re-union, it appears that Decker was also aware of Johannes' half-brother, Adolph, whom he speculated was Johannes' father. He also had information that Adolph had migrated to Virginia, although it is unclear as to what his source of information was.
t is also unclear at this point as to whether there were any family traditions surviving among the Northampton Florys of this period about the existence Johannes I , let along the fact that he was one of "three brothers." Decker, by suggesting that Adolph was Johannes' father, seems to have been unaware of any "three brothers" legend. The officers of the Flory Association included the wealthiest and most influential of the Flory members of that time, people whom, one would suppose, would be repositories of family heritage. Moreover, their re-unions consisted of upwards of 300 persons from various branches of the family. And yet, the implication of the announcement for the 1914 re-union is that nothing was remembered of the 1754 immigration and its immediate aftermath or even of Johannes I. In the minutes to the 1914 meeting, Emanuel F. Florey is referred to as "grandson of the founder of the family." Emanuel Florey was Johannes II's grandson, not Johannes I's, and the title "founder of the family" was clearly given to the former in recognition of the fact that it was his migration to Upper Mt. Bethel that established the line of Florys in Bangor and Plainfield. Since Johannes II was also one of three brothers, any legend still in the family about the "founder" and his brothers probably refers to him.
Where did the "three brothers" tradition of 1754 then come from? Bunderman suggests that it was ubiquitous within the family, but the materials from the 1914 re-union suggests that this was not the case. One must allow for the fact, of course, that Decker's authority and early scholarship may have overridden unsubstantiated family legends. Some Flory members may have been too intimidated by him to include stories about the three brothers in public discourse. But what is more probable is that they were not aware of any.
When John Fremont Keve wrote the first chapter on the history of the Johannes Flory family in America that exists in print, he still cited Decker as the reliable source for family genealogy and did not indicate any knowledge of a story about three brothers. Decker, by the way, in Keve's citation, confuses George with Johannes and makes him the father of Johannes II. Decker's error here probably comes from one of his apparent sources, Daniel Rupp's volume of ship lists of German immigrants to America from 1727-1776. In Rupp's transcription of the list of the John and Elizabeth, he, for some reason, leaves out the name of Johannes, mentioning only George and Adolph. Decker, assuming perhaps that Rupp's list was complete, may have concluded that George and Johannes were one. Such a mistake could only have been made if there were no real memories left in Northampton County of both a George and a Johannes.
The first written statement that there were three Flory brothers who immigrated here in 1754 can be found in Gertrude Flory Dinkey's Genealogy of the Flory-Dinkey Family published in 1946. In compiling her study, Dinkey may have had access to Ralph Beaver Strassburger's Pennsylvania German Pioneers in which Rupp's earlier omission was corrected and where all three brothers were finally listed. Still, she doesn't cite any family legends as substantiation for her brief discussion of the "three brothers," and one must assume that her sources were textual rather than oral. Her own knowledge of the early family history is shaky , and she incorrectly lists Johannes I as having four sons instead of three and she omits reference to any one of his daughters.
Thus, whatever memories may or may not have been left in the family about the John and Elizabeth, it is clear, then, that the main source of the three brothers' legend currently comes from Bunderman's attempt in his 1948 book to list the genealogies of all Flory families in America. If the 1754 George was indeed the 1718 George from Birkenau, his quick return to his homeland would likely have been quickly forgotten by Johannes' descendants. One could even make the case, therefore, that all present references to the "three brothers" go back to Bunderman and no one else, at least not to the Northampton Florys.
Until the Birkenau discoveries, little genealogical work was done on the Flory family in Europe. Reverend Decker , himself, confessed doubt in 1914 as to whether the family was of French or German descent. Keve and Dinkey both suggested Holland, probably on the basis that the ship lists from the John and Elizabeth mention both Amsterdam and Rotterdam, which was typical of most lists from ships coming to America from Germany in the 18th century. The probable Swiss origin of the family was never really given serious consideration.
But now, there are efforts that are underway that promise some even more encouraging findings beyond that of the recent discovery of the Birkenau origins of the family. Steve Flora, a member of the United States diplomatic service abroad and a descendant of Adolph, has formed an e-mail group along with Tim Flora of Kansas and myself. Together, we have hired the aforementioned German genealogist, Sabine Schleichert, to investigate not only the Birkenau branch, but to look at the possibilities of tying that branch in with other Flory families in both Germany and throughout the rest of Europe, including Holland, France, and England. The e-mail group has expanded to include about ten individuals, including John Marcinkowski, Flory family historian, Bill Flory, the editor of the Flory/Fleury/Flora Newsletter, Brian Flora, a member of the U.S. diplomatic core in Bonn, and Pat Hageman, the first Flory descendant to have placed a Flory genealogy on the Internet. Others in the group include Marlene Stillahn, Carolyn Brandon, Dorothy Scott, and Virginia Severns.
Two genealogies of unrelated German Florys have been found by Tim Flora (one of which concerns the aforementioned family that originally was known as "Blum"), and Sabine Schleichert has collected numerous early references European Florys, including that of a letter written in 1735 by a Swiss woman named Flory, who notes that her brother and sister were now living in America. Indeed, enough references to Swiss Florys have emerged recently to lend significant substantiation to the supposition that the ancestors of the three brothers were originally Swiss. At present, I am working at the genealogical facilities of the Church of the Latter Day Saints (Mormons) to analyze the microfilms they have of the kirchenbuchs of early German churches for references to Flory individuals and families. We have developed in rough outline form the genealogies of seven or eight Flori families in both Germany and Switzerland. It is likely that many of the various Flory lines that immigrated to America in the 17th through the 19th centuries are ultimately tied together and that genealogists will soon discover where these ties are. One researcher notes that it was common for some ships to run a shuttle service back and forth from Germany to America, and several Florys may have returned to their homeland at one time or another to encourage other family members to join them. The emigration from Germany to America of various groups of Florys may be more reflective of ancestral ties than currently meets the surface. Because of the relative rarity of the name and the discovery of the birthplace of the 1754 brothers, a comprehensive genealogy that involves the ultimate connection of most of the Flory/Flora/Florey lines now in America is certainly both possible and plausible.